By integrating the latest scientific research and superior Japanese craftsmanship with nature's most vital resource for life, Enagic has pioneered the way of continuous Kangen Water® generating systems. Since 1974, Enagic has specialized in providing in-home, alkaline water ionization technologies. Our mission is to provide true health and wellness internationally with our Gold-Standard product line.






Leveluk Kangen 8 / A26-00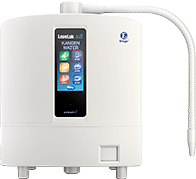 Leveluk SD501 PLATINUM 5-Language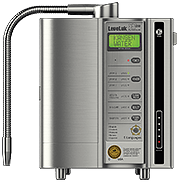 Leveluk SD501 / TYH-401NF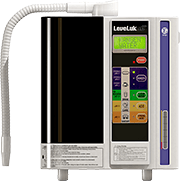 Leveluk SUPER501 / TYH-501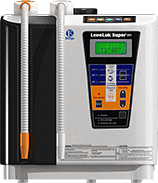 Leveluk JRIV / TYH-201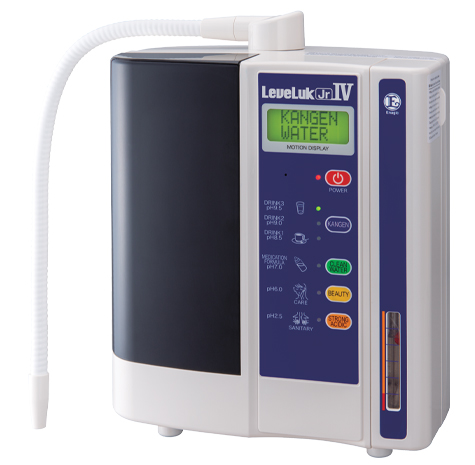 Anespa DX / ANSP-02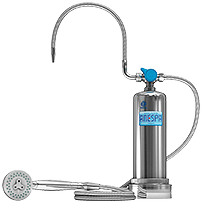 The Mighty 8-Plate Anti-Oxidizer
The Ultimate Home Use Model – Platinum
The Ultimate Home Use Mode
Enagic's most powerful model!
Electrode Plates: 8
Languages
8 – Display & Audio
Level Selections

Kangen Water® / 3 levels (approx. pH 8.5-9.5)
Clean water (pH 7)
Acidic water
(approx. pH 5.5-6.5)
Strong Acidic water (approx. pH 2.4-2.7)
Strong Kangen water (approx. pH 11.0)

Water source connection
1-way diverter (TAP/ION) connects to the end of faucet
Power Supply
100-240V AC 50/6-Hz 2.6 – 1.1A Worldwide Multi-Voltage Power Supply, with Interchangeable Plug Capability
Power Consumption
Energy Saving – Low Input, High Output Approx. 230W (under maximum electrolysis function)
System
Continuous Ionized Electrolysis Water Generator System (with built-in flow rate sensor)
Production Rate (gallon(s)/minute)
Kangen Water®: 1.2-2.0 Acidic water: 0.4-0.7 Strong Acidic water: 0.16-0.3
Electrolysis Capability (continuous use)
Approx. 30 min at normal room temperature
Cell Cleaning Method
10 Second Automatic Cleaning with On-Screen E-Cleaning Instructions
Applicable water quality and pressure
Municipally supplied drinking water: dynamic range in 50kpa – 500kpa
Electrolysis Enhancer
Forced dissolving type additive system (One time addition produces approx. 1.0-1.3 gallons of Strong Acidic water.)
Enhancer Refilling
Indicates by voice, buzzer and LCD
Protector
Current Limiter/Voltage Stabilizer/Thermal Protection
Electrode Material
Platinum coated Titanium
Electrode Plates: 7
Languages
5 (English, German, French, Italian, Spanish
Level Selections

Kangen Water® / 3 levels (approx. pH 8.5-9.5)
Clean water (pH 7)
Acidic water
(approx. pH 5.5-6.5)
Strong Acidic water (approx. pH 2.4-2.7)
Strong Kangen water (approx. pH 11.0)

Water source connection
1-way diverter (TAP/ION) connects to the end of faucet
Power Supply
AC 120V, 60Hz 3.2A (USA)
AC220 – 240V 50Hz/60Hz 1.6A (Europe / parts of Asia)
Power Consumption
Approx. 230W (under maximum electrolysis function)
System
Continuous Ionized Electrolysis Water Generator System (with built-in flow rate sensor)
Production Rate (gallon(s)/minute)
Kangen Water®: 0.7-1.1 Strong Acidic water: 0.2-0.3
Electrolysis Capability (continuous use)
Approx. 30 min at normal room temperature
Cell Cleaning Method
Auto cleaning system (periodically controlled by microcomputer)
Applicable water quality and pressure
Municipally supplied drinking water: dynamic range in 100-450kPa
Electrolysis Enhancer
Forced dissolving type additive system (One time addition produces approx. 1.0-1.3 gallons of Strong Acidic water.)
Enhancer Refilling
Indicates by voice, buzzer and LCD
Protector
Current Limiter/Voltage Stabilizer/Thermal Protection
Electrode Material
Platinum coated Titanium
Electrode Plates: 7
Languages
1 (English)
Level Selections

Kangen Water® / 3 levels (approx. pH 8.5-9.5)
Clean water (pH 7)
Acidic water
(approx. pH 5.5-6.5)
Strong Acidic water (approx. pH 2.4-2.7)
Strong Kangen water (approx. pH 11.0)

Water source connection
1-way diverter (TAP/ION) connects to the end of faucet
Power Supply
AC 120V, 60Hz 3.2A (USA)
AC220 – 240V 50Hz/60Hz 1.6A (Europe / parts of Asia)
Power Consumption
Approx. 230W (under maximum electrolysis function)
System
Continuous Ionized Electrolysis Water Generator System (with built-in flow rate sensor)
Production Rate (gallon(s)/minute)
Kangen Water®: 0.7-1.1 Strong Acidic water: 0.2-0.3
Electrolysis Capability (continuous use)
Approx. 30 min at normal room temperature
Cell Cleaning Method
Auto cleaning system (periodically controlled by microcomputer)
Applicable water quality and pressure
Municipally supplied drinking water: dynamic range in 100-450kPa
Electrolysis Enhancer
Forced dissolving type additive system (One time addition produces approx. 1.0-1.3 gallons of Strong Acidic water.)
Enhancer Refilling
Indicates by voice, buzzer and LCD
Protector
Current Limiter/Voltage Stabilizer/Thermal Protection
Electrode Material
Platinum coated Titanium
Electrode Plates: 7 and 5
Languages
1 (English)
Level Selections

Kangen Water® / 3 levels (approx. pH 8.5-9.5)
Clean water (pH 7)
Acidic water
(approx. pH 5.5-6.5)
Strong Acidic water (approx. pH 2.4-2.7)
Strong Kangen water (approx. pH 11.3-12.0)

Water source connection
Regular connection by hose with a nut attached, built-in magnetic valve for water supply
Power Supply
AC 120V, 60Hz (diphyletic power unit)
Power Consumption
Approx. 200W
System
Continuous Ionized Electrolysis Water Generator System (diphyletic electrolysis vessel)
Production Rate (gallon(s)/minute)
Kangen Water®: 1.3-2.1 Flexible right pipe
Acidic water: 0.5-0.75 Secondary Hose (White)
Acidic Water: 0.4 Flexible left pipe
Strong Kangen Water: 0.3 Hose (White)
Electrolysis Capability (continuous use)
Approx. 80 min (when salt water tank is filled to capacity). It can be used continuously, if refilled regularly
Cell Cleaning Method
Auto cleaning – Manual cleaning function
Applicable water quality and pressure
Municipally supplied drinking water 0.05 – 0.5MPa
Electrolysis Enhancer
Adding method by salt water pump
Enhancer Refilling
Prior warning by blinking at the time of salt water shortage. Forced stop during a time of salt water shortage
Protector
Current limiter – Voltage stabilizer (switching power supply) Fuse 125V 5A Thermal protector (Present temperature 80°C) Short circuit breaker (Sensitivity 15mA) Hot water protector
Electrode Material
Platinum coated Titanium
Electrode Plates: 4
Languages
1 (English)
Level Selections

Kangen Water® / 3 levels (approx. pH 8.5-9.5)
Clean water (pH 7)
Acidic water
(approx. pH 5.5-6.5)
Strong Acidic water (approx. pH 2.4-2.7)
Strong Kangen water (approx. pH 11.0)

Water source connection
1-way diverter (TAP/ION) connects to the end of faucet
Power Supply
AC 160V, 60Hz 3.2A (USA)
AC220 – 240V 50Hz/60Hz 1.6A (Europe / parts of Asia)
Power Consumption
Max. approx. 160W (under maximum electrolysis function)
System
Continuous Ionized Electrolysis Water Generator System (with built-in flow rate sensor)
Production Rate (gallon(s)/minute)
Kangen Water®: 0.4-0.7 Strong Acidic water: 0.1-0.2
Electrolysis Capability (continuous use)
Approx. 30 min at normal room temperature
Cell Cleaning Method
Auto cleaning system (periodically controlled by microcomputer)
Applicable water quality and pressure
Municipally supplied drinking water: dynamic range in 100-450kPa
Electrolysis Enhancer
Solution additive pump system
Enhancer Refilling
Indicates by buzzer and LCD
Protector
Current Limiter/Voltage Stabilizer/Thermal Protection
Electrode Material
Platinum coated Titanium
Electrode Plates: 0
Languages
–
Level Selections
Water source connection
Adapter set
Power Supply
N/A
Power Consumption
N/A
System
Ceramic Cartridge with ceramic balls of both Futamata Radium Hot Spring and Chicutan
Production Rate (gallon(s)/minute)
Abundant water flow at 4 gallons / min.
Electrolysis Capability (continuous use)
N/A
Cell Cleaning Method
N/A
Applicable water quality and pressure
N/A
Electrolysis Enhancer
N/A
Enhancer Refilling
N/A
Protector
N/A
Electrode Material
N/A
Filtering mediumAnti-bacterial Granular Activated Charcoal and Sulfurous Acidic Calcium
Residual chlorine removal Total water flow:
1,500 gallons
Removal rate /
JISS3201 Test: 80%
Initial chlorine removal95% or greater
Elements not removable Metallic ions and/or salinity present in original tap water
Time to exchange the filter Automatic Filter Sensor – No More New Filter Reset! When the filter has treated 1500 gallons of water (depends on quality of original tap water)
Optional/replacement parts

F8 High grade water filter
Calcium Lactate: 3g x 12 packs/box
Electrolysis enhancer: 3 bottles of 0.93pt
Cleaning filter: E-Cleaner
Filtering mediumAnti-bacterial Granular Activated Charcoal and Sulfurous Acidic Calcium
Residual chlorine removal Total water flow:
1,500 gallons
Removal rate /
JISS3201 Test: 80%
Initial chlorine removal95% or greater
Elements not removable Metallic ions and/or salinity present in original tap water
Time to exchange the filter When the filter has treated 1,500 gallons of water (depends on quality of original tap water)
Optional/replacement parts

Standard water filter for chlorine removal: MW-7000R
High grade water filter for chlorine removal: MW-7000HG
Glycerol-phosphate Acidic Calcium: 3g x 12 packs/box
Electrolysis enhancer: 3 bottles of 0.93pt
Cleaning filter: E-Cleaner
Filtering mediumAnti-bacterial Granular Activated Charcoal and Sulfurous Acidic Calcium
Residual chlorine removal Total water flow:
1,500 gallons
Removal rate /
JISS3201 Test: 80%
Initial chlorine removal95% or greater
Elements not removable Metallic ions and/or salinity present in original tap water
Time to exchange the filter When the filter has treated 1,500 gallons of water (depends on quality of original tap water)
Optional/replacement parts

High grade water filter for chlorine removal: MW-7000HG
Glycerol-phosphate Acidic Calcium: 3g x 12 packs/box
Electrolysis enhancer: 3 bottles of 0.93pt
Cleaning filter: E-Cleaner
Filtering mediumAnti-bacterial Granular Activated Charcoal and Sulfurous Acidic Calcium
Residual chlorine removal Total water flow:
1,500 gallons
Removal rate /
JISS3201 Test: 80%
Initial chlorine removal95% or greater
Elements not removable Metallic ions and/or salinity present in original tap water
Time to exchange the filter When the filter has treated 1,500 gallons of water (depends on quality of original tap water)
Optional/replacement parts

Standard water filter for chlorine removal: MW-7000R. Optional type for Chlorine & Lead (pb) removal MW-7000HG
Glycerol-phosphate Acidic Calcium: 3g x 12 packs/box
Flexible pipe (white/orange each 1) 80cm
502 Tank (external type)
Cleaning filter
Filtering mediumAnti-bacterial Granular Activated Charcoal and Sulfurous Acidic Calcium
Residual chlorine removal Total water flow:
1,500 gallons
Removal rate /
JISS3201 Test: 80%
Initial chlorine removal95% or greater
Elements not removable Metallic ions and/or salinity present in original tap water
Time to exchange the filter When the filter has treated 1,500 gallons of water (depends on quality of original tap water)
Optional/replacement parts

Standard water filter for chlorine removal: MW-7000R
High grade water filter for chlorine removal: MW-7000HG
Glycerol-phosphate Acidic Calcium: 3g x 12 packs/box
Electrolysis enhancer: 3 bottles of 0.93pt
Cleaning filter: E-Cleaner
Filtering medium
Water purification Cartridge
Tourmaline impregnated activated carbon fiber. Activates water by using surface-active and negative-ion effect. Removes all impurities from organic compounds to fungus / dust.
Ceramic Cartridge Cartridge with a layer of ceramic filling. Ceramic balls are comfortably filled in a single cartridge.
Neodymium magnet This high quality powerful magnet can decompose the water molecules into smaller clusters to activate the water and change ir to slightly stimulated. It also helps water absorb minerals.
Tufa A mineral stone taken directly from the Futamata Radium Hot spring in Hokkaido, Japan. This stone gives the water the same gentle and relaxing effect of a hot spring.
MIC stoneGenerates activated mildly alkaline water which is good for your skin.
Power stone Generates strong negative-ions.
Standard accessories

Hot Water pipe
Water supply hose
Shower hose
Shower head
Cartridge replacement seal
Safety ring against overturning
Suction plate
Adapter set
Wrench
Dimensions13.6 x 11.0 x 5.8 (inch)345 (W) x 279 (H) x 147 (D) (mm)
Gross Weight (wet)13.9 lbs
Dimensions 10.39 x 13.31 x 6.73 (inch)264 (W) x 338 (H) x 171 (D) mm
Gross Weight (wet)13.9 lbs
Dimensions 10.39 x 13.31 x 6.73 (inch)264 (W) x 338 (H) x 171 (D) mm
Gross Weight (wet)13.9 lbs
Dimensions 13.88 x 15.13 x 11.44 (inch)353 (W) x 384 (H) x 291 (D) mm
Gross Weight (wet)22.5 lbs
Dimensions 10.39 x 13.31 x 6.73 (inch)264 (W) x 338 (H) x 171 (D) mm
Gross Weight (wet)11.68 lbs
Dimensions 13.62 x 3.54 (diam.) – Base Diameter 5.12 (inch)346 (H) x 90 (diam) – Base Diameter 130 mm
Gross Weight (wet)5.5 lbs