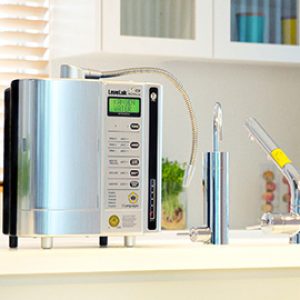 Description
| | |
| --- | --- |
| Weight | 6.3 kg |
| Electrode plates: | 7 |
| Plate size: (mm) | 135 x 75 |
| Negative ORP: (mV) | -800 |
| pH Range: | 2.5 – 11.5 |
| Generates: | 5 water types |
| Wattage: (W) | 230 |
| Dimensions WHD: (mm) | 264 x 338 x 171 |
| Total weight: (kg) | 6.3 |
| Production rate: (l/min) | Kangen Water®: 4.5 – 7.6 Acidic Water: 1.5 – 2.6 Strong Acidic water: 0.6 – 1.1 |
| Ease of Use: | Fully automatic, very simple to operate |
| Languages: | 5 |
| Warranty: (years) | 5 |
LeveLuk SD501 (PLATINUM)
₹ 297,000
Add to cart
LeveLuk SD501 (PLATINUM) Description
Leveluksd501 platinum filter is a fully equipped water machine with a built-in electrolysis chamber. It comes with a large LCD panel, and clear voice prompts. The sd501 platinum can be considered as the best of the lot. The electrolysis chamber consists of 7 platinum-plated titanium plates. There is novariationinLeveluk sd501 platinum price; infact, it is uniform across India.
About Leveluk sd501 platinum water machine
The machine can last for 25 years to more if taken care of carefully.
It happens to be the only machine that is a certified medical device in Japan.
The machine is very easy to install and needs just 15 minutes for installation. It also self-cleans itself.
Everything that is needed for installation and getting started comes within a package. It consists of- 1 filter, hose, directions, various facet adapters, and pH tester.
Within a few minutes of installation, you can get ionized or alkaline drinking water.
The Leveluk sd501 price is affordable, and hence everyone can benefit from it.
The water machine will be registered to you and delivered to your door.
Leveluk sd501 platinum filter happens to be one of the most loved and used machines across the 82 countries. The machine can notify in various languages. You simply need to choose the language of your choice. The machine is capable of producing 5 types of water:
kangen water 8.5 to 9.5
clean water 7 ph,
beauty water
strong acidic 2.5 ph
strongkangen 11.5 ph
Health Benefits
The ionized water boosts immunity and hydrates body cells. Micro clustered Kangen water gets easily absorbed into the cells, thereby boosting the energy levels, improving aerobic capacity, eliminating toxins from colon and may prevent premature aging. In fact, doctors also recommend drinking ionized water to fight against various illnesses.
The all-new platinum features a revamped modern design that blends seamlessly with today's stylish kitchens. It offers powerful performance in an all-new package. For Leveluksd501 price in India, connect with us today!
The Kangen Leveluksd501 water ionizer machine is theFlagship model of Enagic International and the finest machine in its class. It is "The Ultimate Home Use Model".
About Kangen water machine sd501
Kangen Leveluk sd501 comes with one of the highest quality electrolysis chambers available.
It is fully equipped with a large LCD panel, and clear voice prompts.
It can be considered as the leader of the Leveluk water machines.
The electrolysis chamber consists of 7 platinum-plated titanium plates.
It is capable of generating5 types of water – Kangen water, strong Kangenwater, beauty water, neutral water, and strong acidic water.
It is a fully automatic machine that is easy to install and equally easy to operate.
It comes with English display and audio.
The machine comes with an auto-cleaning system that is periodically controlled by a microcomputer.
It offers additional stable oxygen, better micro-cluttering-** clustering , and higher negative ORP levels.
Like other 501 models, it uses innovative electrolysis technology with 7 platinum-coated 99.97% pure titanium electrode plates.
The need for refilling is indicated by voice, buzzer, and LCD.
Though the sd501 machine is very powerful, it is very compact and suitable for the kitchen cabinet.
Benefits
It is one of the user-friendly machines. It works with a simple touch, and you get access to 5 types of waters.
The machine offers voice confirmation about the water you have selected in a pleasant voice.
The smart technology enables the machine to tell you when it's time to change the filters.
Alkaline water has a wide array of health benefits. It may slow down the aging process, and regulates the body's pH levels, it may also help body in preventing chronic diseases.
If you have been looking for healthy and alkaline water for hydrating your family, Sd501 is the right product for you. For KangenLeveluksd501 price, connect with us today!
Additional information
Description
| | |
| --- | --- |
| Weight | 6.3 kg |
| Electrode plates: | 7 |
| Plate size: (mm) | 135 x 75 |
| Negative ORP: (mV) | -800 |
| pH Range: | 2.5 – 11.5 |
| Generates: | 5 water types |
| Wattage: (W) | 230 |
| Dimensions WHD: (mm) | 264 x 338 x 171 |
| Total weight: (kg) | 6.3 |
| Production rate: (l/min) | Kangen Water®: 4.5 – 7.6 Acidic Water: 1.5 – 2.6 Strong Acidic water: 0.6 – 1.1 |
| Ease of Use: | Fully automatic, very simple to operate |
| Languages: | 5 |
| Warranty: (years) | 5 |