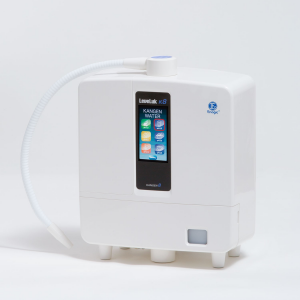 Description
Kangen® 8
Capable of producing 5 types of water:
Strong Kangen Water (11.0 pH)
Kangen Water (8.5, 9.0, 9.5 pH)
Clean Water (7.0 pH)
Acidic (Beauty) water (6.0 pH)
Strong Acidic water (2.5 ph)
| | |
| --- | --- |
| Weight | 5 kg |
| Dimensions | 345 x 279 x 147 cm |
| Electrode plates: | 8 |
| Plate size: (mm) | 135 x 75 |
| Negative ORP: (mV) : | -850 |
| pH Range: | 2.5 – 11.5 |
| Generates: | 5 water types |
| Wattage: (W) | 230 |
| Total weight: (kg) | 5 |
| Dimensions WHD: (mm) | 345 x 279 x 147 |
| Production rate: (l/min) | Kangen Water®: 4.5 – 7.6 Acidic Water: 1.5 – 2.6 Strong Acidic water: 0.6 – 1.1 |
| Ease of Use: | Fully automatic, very simple to operate |
| Languages: | 8 |
| Warranty: (years) | 5 |
LeveLuk K8
₹ 343,000
Add to cart
LeveLuk K8 Description
The Leveluk K8 is Enagic's one of the most powerful antioxidant machines. It comes with 8 platinum dipped titanium plates. The additional electrode plate increases the surface area of electrolysis and improves water ionization and heightens the potential for antioxidant production.
About Kangen water machine K8
The Leveluk K8, acertified medical device in Japan, can last for up to 25 years and more if taken care of carefully.
The brand new Kangen water machine k8 is brought to you directly from our Japan factory.
The machine can be easily installed within 15 minutes, and that's not all. It can also self-clean itself.
The machine comes in a package with everything that you need to get started. It comes with 1 filter, hose, directions, various faucet adapters, and pH tester.
You can easily get access to ionized or alkaline Kangen water k8 drinking water.
The Kangen water k8 machine will be registered to you and delivered at your doorstep.
Different pH levels generateKangen water, strong Kangenwater,beauty water, neutral water, and strong acidic water.
You can also avail the financing options while buying the machine.
The Leveluk K8 boasts of several advanced and convenient features. Let's have a look at them:
You can just plug and get your water, no more hassle of switches.
It comes with a worldwide multi-voltage power supply with interchangeable plug capability.
The machine can perform automatic cleaning within 10 seconds.
It comes with on-screen e-cleaning instructions.
It comes with energy-saving options of low input and high output.
Flaunts a large full colour LCD touch screen panel.
Has 8 language display and audio.
Capable of producing 5 types of water.
Why should you drink ionized water?
The ionized water helps in boosting your immunity and hydrating your cells.Many healthcare practitioners suggest drinking ionized water to their patients to fight from various symptoms and illnesses.
For buying the latest Leveluk K8, get in touch with us today!
The Mighty 8-Plate Anti-Oxidizer
The Kangen® 8 is now Enagic®'s most powerful antioxidant machine – featuring 8 platinum-dipped titanium plates! This additional electrode plate increases the electrolysis surface area, improves water ionization, and heightens the antioxidant production potential.
The Kangen® 8 boasts many new & convenient features:
Plug & Play – No More Switches!
Worldwide Multi-Voltage Power Supply, with Interchangeable Plug Capability
10 Second Automatic Cleaning
On-Screen E-Cleaning Instructions
Automatic Filter Sensor – No More New Filter Reset!
Energy Saving – Low Input, High Output
Auto-Off, Auto-On
Large Full Color LCD Touch Screen Panel
8 Language Display & Audio
Description
Kangen® 8
Capable of producing 5 types of water:
Strong Kangen Water (11.0 pH)
Kangen Water (8.5, 9.0, 9.5 pH)
Clean Water (7.0 pH)
Acidic (Beauty) water (6.0 pH)
Strong Acidic water (2.5 ph)
Additional information
Description
Kangen® 8
Capable of producing 5 types of water:
Strong Kangen Water (11.0 pH)
Kangen Water (8.5, 9.0, 9.5 pH)
Clean Water (7.0 pH)
Acidic (Beauty) water (6.0 pH)
Strong Acidic water (2.5 ph)
| | |
| --- | --- |
| Weight | 5 kg |
| Dimensions | 345 x 279 x 147 cm |
| Electrode plates: | 8 |
| Plate size: (mm) | 135 x 75 |
| Negative ORP: (mV) : | -850 |
| pH Range: | 2.5 – 11.5 |
| Generates: | 5 water types |
| Wattage: (W) | 230 |
| Total weight: (kg) | 5 |
| Dimensions WHD: (mm) | 345 x 279 x 147 |
| Production rate: (l/min) | Kangen Water®: 4.5 – 7.6 Acidic Water: 1.5 – 2.6 Strong Acidic water: 0.6 – 1.1 |
| Ease of Use: | Fully automatic, very simple to operate |
| Languages: | 8 |
| Warranty: (years) | 5 |